Steps You Need to Know if You Are in a Car Accident, Infographic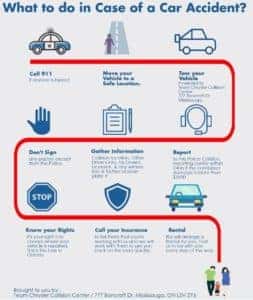 The First Thing to do is Remember to Report Any Vehicle Accident That You Have in Mississauga
If you are in a car accident in the Mississauga area, make sure that your vehicle occupants are safe, and if anyone is injured call 911. In case your vehicle is not driveable, have it towed using the free tow car, and if you can drive it just move it to a safe location.
Do Not Sign Any Document After an Accident Unless It's from the Police
Unless the police give you something to sign, do not sign any that anyone gives you after your vehicle has been in an accident. The one form that you really do need to fill in is the collision data form, since both your insurance company and the police need it to file any claims. If more than $1000 in combined damages to vehicles have results from any accident that your car is in, Ontario law states that you must report it to the police or a Collision Reporting Centre within 24 hours. You can reach the police at 911, or at 1-888-310-1122 within the province of Ontario.
You have the right to choose where you want your vehicle to be repaired after an accident. Section 13 of the Ontario Auto Insurance Consumer Bill of Rights stipulates this, and Team Chrysler's Collision Repair is always available to help you in any way we can.
Why You Can Trust Team Chrysler Collision Repair
Below are five reasons why you can trust Team Chrysler collision repair:
1.    It doesn't matter if you are visiting Team Chrysler to have your vehicle serviced or for an oil change, or an appearance repair, our service department checks everything for the latest products and components, and the very first time it will be fixed properly. There is simply nobody who knows your Chrysler better than we do, and at Team Chrysler we are committed to you and your Chrysler. There is no need to have anyone else check under the hood – bring your car in to us.
2.    If you need a rental, we will make arrangements for you to have one. Regardless of whether your vehicle is towed to our service department or whether you drive it in yourself, you're in good hands and we will ensure that you are well looked after. Just let your insurance company know that we're doing the repair job for you, and we will work cooperatively with the adjuster to get everything fixed up quickly so you can get back on the road.
3.    We want you to be safe and we keep you that way by repairing all of those things that aren't easily visible to the naked eye. A certified Chrysler expert will examine all of the safety features in your Chrysler and ensure it is repaired up to standard, since these details are just not something you can take for granted. We'll make sure that:
a.    Bluetooth Handfreelink connections are in sync
b.    Recalibration of electronic perimeter monitoring systems are done accurately
c.    Only Chrysler experts will be working on the repair of your vehicle after an accident to make sure that occupant protection and vehicle dynamics are kept as safe as they always were. The structural parts of your Chrysler vehicle are made with high strength steel and only experts can verify that they are repaired right
4.    Part of protecting your vehicle investment involves protecting your warranty, so we look at your warranty very thoroughly to ensure you get the most out of your investment. We keep your Chrysler a Chrysler by using Genuine Chrysler parts. Genuine Chrysler Parts have been specifically designed, rigorously tested for quality and approved to meet the exact operating specifications of your Chrysler. Using Genuine Chrysler Parts will help to maintain the quality, reliability and performance of your vehicle.
5.    We do many other things in addition to Collision Repair Restoration and here are just a couple of them:
a.    We can also rejuvenate the interior of your car through our a full range of Spa services, or spruce up your vehicle with a meticulous detailing of its exterior. Or, if you need a simple car wash and a little extra vehicle pampering, we offer hand wash and dry at a very reasonable rate.
b.    We can keep your Chrysler looking new with our paint-less dent removal services
c.    Another area we handle quickly and effortlessly is Windshield Repair or replacement to minimize your inconvenience
If you ever get into an accident, contact Team Chrysler's Collision Repair. The number to call for the Collision Repair is 1-905-609-2199, and this is our hotline and we can be reached there 24 hours. It's a good idea to record this number on your cell phone or in your list of emergency numbers so you can access it if you need it in an emergency.