Cummins-RAM Truck Relationship Was Destined to Succeed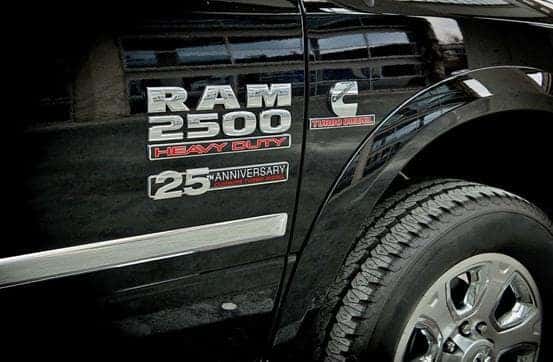 Cummins-RAM Truck Relationship Was Destined to Succeed
Part of what makes the RAM Truck so great is its Cummins engine that gives it superlative strength and power. First introduced to the trucks in 1989, the Cummins engine currently delivers an overwhelming 850 lb-ft of torque. This is more than double the capacity it had in 1989 when its 400 lb-ft torque roared past all the competition.
A star relationship was born at that point. The Cummins-RAM team had star quality back in 1989 and it hasn't let up since. The Cummins engine makes RAM trucks the most powerful, tough truck available.
Some of the major milestones experienced by the Cummins engine over the year included:
• The first Cummins engine was incorporated into the RAM truck in 1989
• The Cummins engine exceeded 200 horsepower in 1996
• The already outstanding torque of the Cummins engine delivered a 500 lb-ft torque in 2001
• Cummins launched the 350-horsepower 6.7-litre engine in 2007
• The now-famous 850 lb-ft torque-delivering, 385 horsepower-producing Cummins engine was born in 2013
In 1981 when Chrysler first launched the RAM truck, both General Motors and Ford were creating enough competition that Chrysler needed a unique factor to create its own niche. The new Cummins B-series engine was put into the RAM, and both its size and power necessitated some engineering feats to accommodate it. By 1989 the mutually-beneficial relationship between RAM and Cummins was established, and the B-series Cummins engine became RAM's new hallmark of fame. The 400 lb-ft of torque at the time was a feat that made the RAM truck soar past the competition.
25th Anniversary Cummins Turbo Diesel Package Celebrates Cummins-RAM Partnership
Mississauga drivers can now take advantage of the 25th anniversary Turbo Diesel Cummins options on RAM 2500 and RAM 3500 trucks, which transforms heavy-duty pickups into a special unique truck. The 2016 6.7L Cummins turbo diesel option for pickup trucks has an inline 6-cylinder engine that gives it 385 horsepower and 900 pound-feet of torque.
Operating costs in the RAM can be reduced for Mississauga drivers with the MY 2013.5+ Cummins 6.7-litre turbo diesel's selective catalytic reduction "after-treatment" that contributes to 10% greater fuel economy through its use of diesel exhaust fluid. Its new cooling system delivers up to 25% more capacity to reject heat through its dual radiators, high-efficiency fan, a charge-air cooler and dual transmission cooler that lower the temperature as well as provide better performance.
The MY 2013.5+ Cummins engine also has biofuel improvements, which offer flexible choices at the pump between low-sulfur diesel or B20 biodiesel. The new exhaust brake that's available with the Variable Geometry Turbo electronically controls exhaust braking to keep you at a set vehicle speed when descending a grade.