Compare The Chrysler Pacifica and Toyota Sienna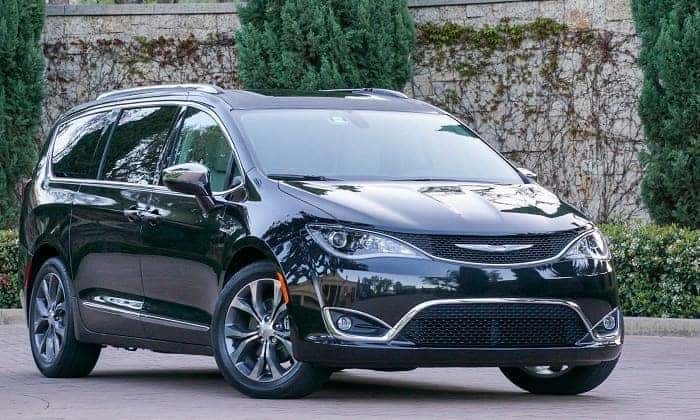 US News and World Report offers an annual comparison report on mini-vans. This year, the final match came down to the Chrysler Pacifica and the Toyota Sienna. Although both family-friendly vans offer comfortable seating and stellar interior features, the Chrysler Pacifica was the ultimate overall winner in a number of specific categories. We'd like to share the breakdown of these findings with our Brampton and Mississauga customers who might be in the market for a top-score minivan.
The Basics
The restyled Sienna "Swagger Wagon" certainly impresses with new multimedia swag in the form of a bigger infotainment screen, Display Audio Entune system and a multi-information display. It's been treated to fresh exteriors, revised headlights and a stiffened chassis. Some other minor changes have taken place between the 2021 and 2022  models, with the 2022 available in five grades: L, LE, SE, XLE, and Limited. You can get the all-wheel drive option on LE, XLE, and Limited trims.
The Pacifica name might ring a bell—remember the Pacifica SUV? Drawing on the success of the just de-listed Town & Country, Chrysler is going in a new direction with the same consumer segment. Winning features from other models combine here, such as Stow 'n Go seats, three-pane panoramic sunroof, Stow n' Vac, and—this should be music to your ears—Active Noise Cancellation. Chrysler's Pacifica comes in five trim levels: LX, Touring, Touring-L, Touring-L Plus, and Limited.
 Pricing
The Sienna wins for starting price with the lowest starting price in the minivan segment. The Chrysler Pacifica has a starting price of 36,495 CAD (not including destination and delivery charges). At 33,690 CAD the Toyota Sienna costs 2,805 CAD Less.
Complicating an across-the-board pricing comparison, Toyota offers a number of trims within each model above the S. All-wheel drive add-ons will drive the starting price up by thousands.
To Chrysler's credit, they offer a far simpler pricing structure for the Pacifica, with straightforward offerings at each trim level. Additional packages such as the Harman Kardon Sound Group, Trailer Tow and SafetyTec groups are available to buyers. Change out the wheels or add a spare tire and understandably, the price goes up.
Safety
The Chrysler Pacifica has not yet been reviewed by the Insurance Institute for Highway Safety or by the National Highway Traffic Safety Administration. But consider this: Chrysler's Pacifica boasts over 100 safety and security features. These include an all-speed traction control system, Adaptive Cruise Control with Stop and Hold, Advance Brake Assist, Ready Alert Braking, Surround View camera and all-row full-length side-curtain air bags. Not only can these features help to prevent traffic accidents, but they can also work to help in the event of an actual collision.
US News and World Report gave the Toyota Sienna a 9 out of 10 score in their safety ratings from the National Highway Traffic Safety Administration. The Sienna scored mostly Good-level ratings in all Insurance Institute for Highway Safety tests; in the small overlap front testing, it received an Acceptable.
The Chrysler Pacifica comes with five LATCH-ready seating locations; the Sienna offers just four.
Seat Comfort and Interiors  
Leather interiors and a nice blend of soft-touch fabrics and the hard surfaces of tech features echo the Town and County model in the Pacifica. Abundant head- and legroom are also a selling feature of the Pacifica, and Chrysler's Stow 'n Go seating allows for up to 243 seating configurations. Depending on which seating type you choose, that includes space for seven or eight passengers. With Chrysler's Easy Tilt Seating option, a second row seat with a car seat attached can easily be tilted forward, allowing plenty of room for a third-row passenger in the van to enter or exit safely and comfortably.
The Sienna also offers the same amount of seating. And Toyota gives buyers the option to add features: leather upholstery, heated and power-adjustable front seats, "long-slide" second-row lounge seats, and a power-folding third row.
At the end of the day, US News named the Chrysler Pacifica the winner in the seat comfort category.
Interior Tech  
In a family van, your rear-seat passengers need to be happy, right? For consumers with kids, Chrysler's UConnect infotainment system, anchored by an 8.4-inch touch screen with crisp graphics and speedy response times, is especially appealing.
As an add-on in the Premium trim level only, the Uconnect Theater+ system features two seat-mounted 10.1-inch screens. These high-def screens can connect to a wide range of devices via USB, Bluetooth, and HDMI, making it compatible with smartphones, laptops, tablets and those all-important gaming devices. The system also comes with a Blu-ray player, as well as some fun preloaded classic games.
The Toyota Sienna features the Entune system, and Toyota allows buyers to choose from a range of system levels that vary with trim level. The Sienna's centre stack has been reorganized, giving this van a tidier look. Entune systems come with Siri Eyes Free, integrated backup camera display, HD radio and HD traffic and weather in metropolitan areas.
Second- and third row passengers can view either a single wide-angle image or two smaller images simultaneously from different sources with the Sienna's Dual-View Blu-Ray Disc Entertainment Center option.  RCA jacks and two 120-volt AC power outlets are included in the set-up. Technology does try to mitigate backseat arguments.
Cargo Space  
The Sienna has the winner's edge in the cargo department. It offers 39.1 cubic feet of cargo space behind the third-row, 87.1 cubic feet behind the middle row, and 150 cubic feet when the third row is folded and the middle seats have been removed. However, the removed seats cannot be stowed in the floor of the van as they can with the Pacifica, and that's a deal-breaker for some consumers wanting that level of flexibility on the road.
Pacifica buyers may be disappointed by the 32.3 cubic feet of cargo space behind its rear seats and 87.5 cubic feet when its third row is folded down. The total cubic feet of storage space in the Pacifica, with both the second- and third-row seats folded down is 140.5 cubic feet.
In spite of lost cargo space, the Stow N' Go area can in fact be used for additional storage if removed seats aren't stowed in the handy compartment that's flush with the floor. Add liners and you have a built-in cooler—hockey weekends and road trips go hand in hand with cold drinks and snack-stops, do they not?
Performance  
In terms of towing capacity and performance, the Chrysler Pacifica has a slight edge over the Sienna. Minivans have a long-established reputation for clumsy handling and rougher rides. And yet, here is another area in the segment where the Pacifica and Sienna have bucked the performance status quo. The Sienna gives a smooth, comfy ride, although if does offer power levels described as "adequate." If you want to forget you're driving a minivan, say critics, the Pacifica is your best bet for a quiet ride with great fuel economy and a surprisingly powerful engine.
The standard Sienna comes with a 266-horsepower 3.5-liter V6 engine, a six-speed automatic transmission, and front-wheel drive. The Pacifica standard is a 287-horsepower 3.6-liter V6 engine, nine-speed automatic transmission, and front-wheel drive. The Pacifica can tow loads of up to 3,600 pounds, while the Sienna hauls up to 3,500 pounds.
Fuel Efficiency
When it comes to fuel efficiency, Chrysler's Pacifica wins the battle hands down with 28 mpg on the highway, 18 mpg in the city, and 22 in combined driving situations. The Sienna offers 23 mpg for highway drives, 16 mpg in the city, and just 18 mpg in combined driving scenarios.
Fuel economy should not vary too much by trim level; both the Pacifica and Sienna offer the same engine throughout their model line-ups.
The Winner : Chrysler Pacifica
The US News and World Report results show that the Chrysler is the best choice for busy families who crave a modern-looking, tech-savvy van that does more than just transport people. The Chrysler Pacifica beats the Toyota Sienna in every category. If added towing capacity is a concern, consumers may wish to consider a full-sized SUV instead. And if cargo capacity is a major consideration, checking out the unique Sienna and Pacifica storage systems in person is probably a good idea. We must admit, we're not surprised this van came out a winner.
Come see us at Team Chrysler. We'd love to tour you through the Pacifica's many top-notch features.