Best Snow Tires to Buy in Ontario, Canada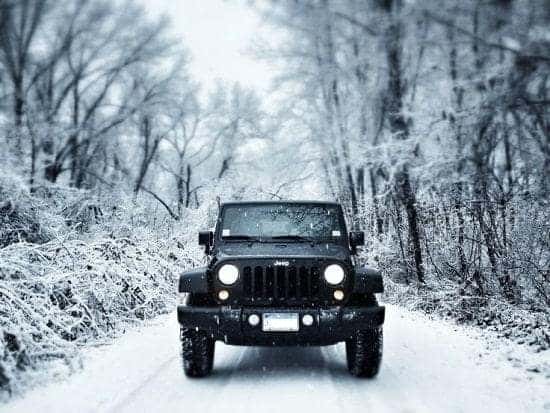 Growing up in one of the many snow belt regions of Ontario, you didn't drive without snow tires. I got my license in a blizzard and on my first solo drive to my best friend's place, I hit a massive ice patch. With my Scottish driving teacher's admonishment "Feather the breeeeks, feather the breeeeks!" in my ears, I was really glad my mother had snow tires on her vehicle. If you've decided to make the switch from all-season tires to fully legit snow tires this year in Mississauga, Brampton, Oakville or Toronto, we can't blame you. Because we love you and your passengers here at Team Chrysler, we've prepared this Top Ten list to help you choose your new snow tires.
As with cars, so it is with tires when it comes to varieties of quality and performance. This list of top snow tire options for Canadian winter driving represents quality tires rated for safety and performance in the ice and snow.
Blizzak WS80 
Bridgestone's Studless Ice & Snow winter tire was developed for compact, coupe, sedan and minivan drivers looking to navigate the icy streets of the GTA with confidence. The Blizzak WS80 uses Bridgestone's next-generation adaptive NanoPro-Tech Multicell compound, a hydrophilic coating and microscopic bite particles. This combo allows the Multicell compound to stay nice and flexible in those below-freezing conditions, wicking water off the road while the bite particles act as microscopic studs.  The compound, molded into a directional tread, features 20% more block edges where Circumferential and Lateral Grooves work to channel water, slush and snow away from the tire's contact area. The 3-D Zig-Zag Sipes increase the number of snow biting edges.
Blizzak WS80 Studless Ice & Snow tires meet industry-directed severe snow service requirements and are branded with the three-peak mountain snowflake (3PMSF) certification symbol. When the Blizzak WS80 is 50 percent worn, a tread depth indicator lets the driver know that only 10 percent of the remaining tread is Multicell compound. Due to the specialized design of the tread, drivers are advised to install Bridgestone Blizzak WS80 tires in sets of four only.
Yokohama BluEarth Winter
These tires let you enjoy good pricing and excellent quality together in one excellent winter tire design. Terrific value and a stand-out warranty make them a good choice. With 3-D triple sipes for max road grip, you'll gain extra control during hydroplaning situations. A two-ply polyester casing balances your ride, boosted by a unique tread design and high durability construction.
Michelin X-Ice X13
Traction, durability and the Michelin Promise Plan make this a contender for the number one spot on our list of top five snow tires. With a tread life double that of competitors, you can look forward to not having to replace these after one intense winter season. Best of all, Xi3 XIce Michelin tires come with a limited 60 000 km warranty against tread wear, plus the normal warranty on labor and raw materials. Hate the thought of changing a tire yourself? Michelin offers 3-Year flat tire changing assistance. MaxTouch Construction technology provides the X-IceXi3 with a confident footprint that evenly distributes the forces of acceleration, braking and cornering. Optimized tread blocks increase rigidity, stability, and traction on ice and snow. Want to lessen the chances of hydroplaning on those rainy GTA expressways? This tire features micropumps that absorb water from the surface, forcing it out via centrifugal force to improve the contact of the tread with the road. Ideal for highway and urban driving.
Dunlop Winter Maxx
Ok, urbanites, this one is for you. If you seldom venture outside your urban commute in winter, the Dunlop Winter Maxx 2 can take care of your needs. Quiet tires help to make the end of day commute a little less noisy. Designed for sedans, coupes and crossovers, the Dunlop Winter Maxx 2 offers you top-notch traction in snow, as well as enhanced grip on ice and in slush. If you seek a safe, durable tire for city conditions, opt for this one. Known for stability on curves, the Winter Maxx 2 would be a great tire on some of those more wicked 400 series highway merge ramps.
Goodyear Ultra Grip 
Removable studs make this brand appealing to those seeking versatility in a winter tire. Exceeding industry standards, these are suited to climbing up over snow and ice, while never losing their impressive grip. They are also known for subzero performance capability.
Pirelli Winter Cinturato
You often hear the Pirelli name associated with fast cars on and off the track. Here, the wide footprint of this tire, which allows almost full road to tread contact, makes it a winter favourite for passenger vehicles. Slush gets flushed out, enabling continuous grip with the solid surface under the slippery stuff.
Bridgestone Blizzak DM
Offering 15% more traction than previous Blizzak models, these tires give the competition an annual run for the money. Lacking the warranty clout of the Blizzaks mentioned earlier in this review, they are in every other way a great choice to keep you and your family safe on those icy, slushy roads that dog us for several months of the year.
Yokohama Iceguard
Just because it may not snow for a few days or weeks in deepest winter doesn't mean you don't require traction on icy cold pavement. Also excellent in rainy conditions, these industry-standard tires are a popular choice that behave in the same way studded tires do—without being studded. It's always nice to get a little extra bang for your buck when it comes to winter tires.
Michelin LTX Winter
Maximum load capacity ideal for trucks and SUVs and an excellent Eco rating may have you calling out for the Michelin man come winter. The established reliability factor aside, these are the winter tires you want when you hit black ice at a higher-than-ideal speed.
Firestone Winterforce UV
The unique tread design of this tire and wide contact pad make it another excellent choice for the unpredictable ups and downs of winter. Tight and wide turns in icy conditions are easier with this brand, and you can add studs if you feel you need to. Known for high safety standards and tackling tough conditions, Firestone is an old favourite for good reason.
Want to talk tires with Team Chrysler? Visit our tire shop today. We're easy to find at 777 Bancroft Drive in Mississauga.