25 New Electric Dodge, Jeep, Ram and Chrysler Models Coming to Mississauga, Brampton and Toronto by 2030, Find Yours at Team Chrysler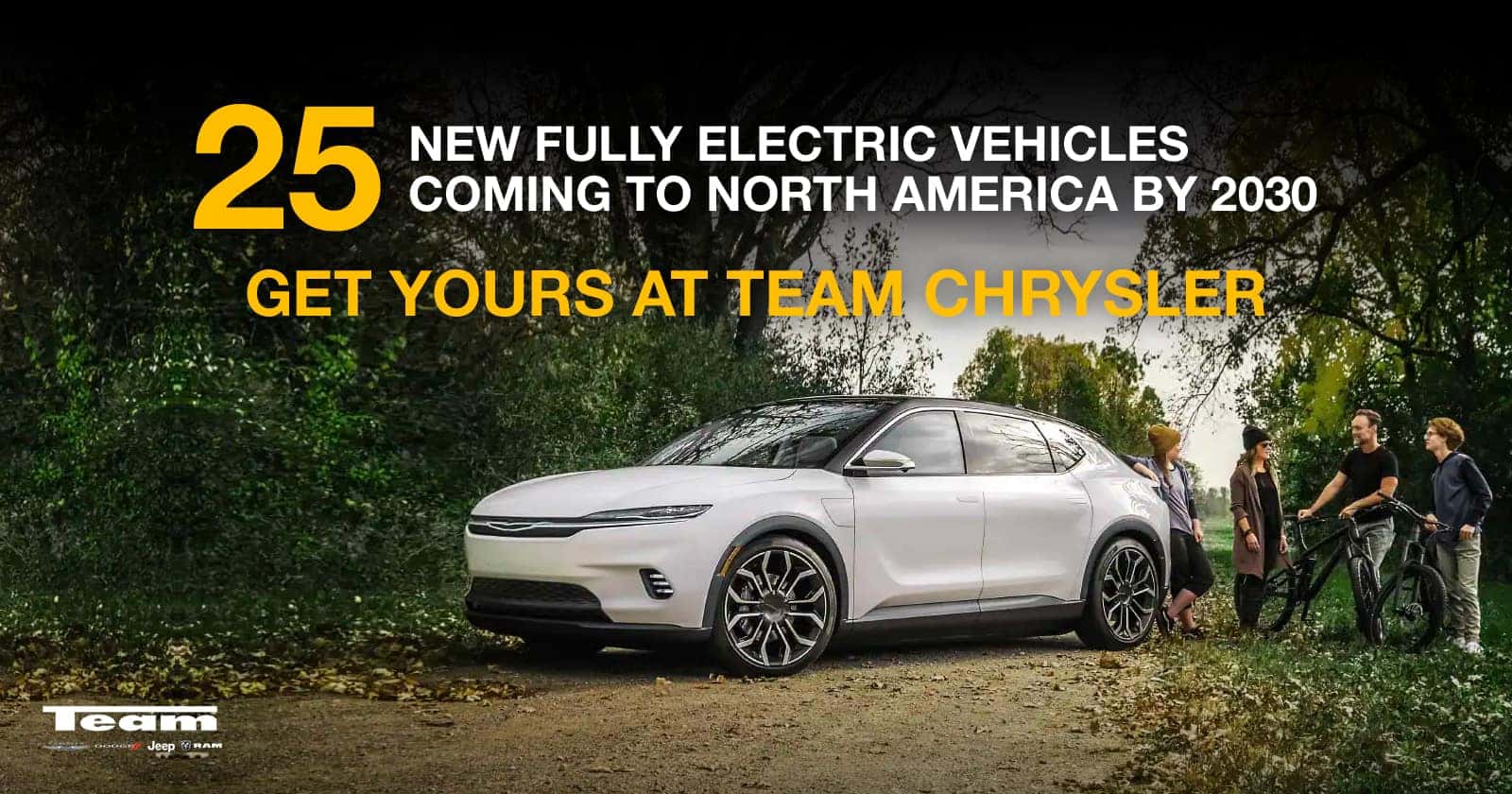 Consumers are becoming more and more interested in making greener choices that benefit the environment and reduce their reliance on fossil fuels. One of the most promising ways consumers are choosing to make change is through purchasing fully electrical vehicles. Thankfully, many auto manufacturers are on board with this vision and are stepping to up make electrical vehicles accessible and promote a greener future. Stellantis, the corporation behind loved brands such as Ram, Jeep, Chrysler, and Dodge, is making waves when it comes to bringing more electric vehicles to market and is set to be the one to watch.
At Team Chrysler, we are excited to share news of Stellantis' commitment to bringing 25 new fully electric vehicles to the North American Market by 2030. Many new electric vehicles will be making their way into our inventory well before 2030, with exciting new options already in development. A greener future is in sight, with muscle cars, SUVs and trucks all becoming available as fully electric vehicles in the near future. Team Chrysler will be your go-to Dodge, Ram, Chrysler and Jeep dealership Mississauga, Brampton, and Toronto wide as fully electric vehicles arrive.
What Electric Vehicles are Coming to Team Chrysler?
We know our customers expect high-quality electric vehicles that offer performance for everyday life. Stellantis is bringing just what you've been waiting for with a fully electric Jeep, Ram 1500 and Dodge muscle car already in the works. There will be no reason not to make the switch with exciting options such as the fully electric 2022 Chrysler Airflow making its way to North American car buyers.
What Electric Vehicles are Currently In-Stock?
There's no need to wait for fully electric vehicles if you want to make the switch to a greener option. The Jeep Grand Cherokee 4xe is making its way to Team Chrysler soon, and the Jeep Wrangler 4xe and Chrysler Pacifica hybrid are already here. Choose Team Chrysler when looking for a Jeep dealership near me with greener choices in stock.
How to Finance a Hybrid-Electric Vehicle in Mississauga
When you're ready to get into a Jeep Wrangler 4xe or Chrysler Pacific hybrid, the experts at Team Chrysler can help. Contact us today to learn more about financing for hybrid-electric vehicles or apply for financing online to get started. We are here to help make going greener easier.