2022 Jeep Gladiator Gobi for Sale in Mississauga, Brampton, Toronto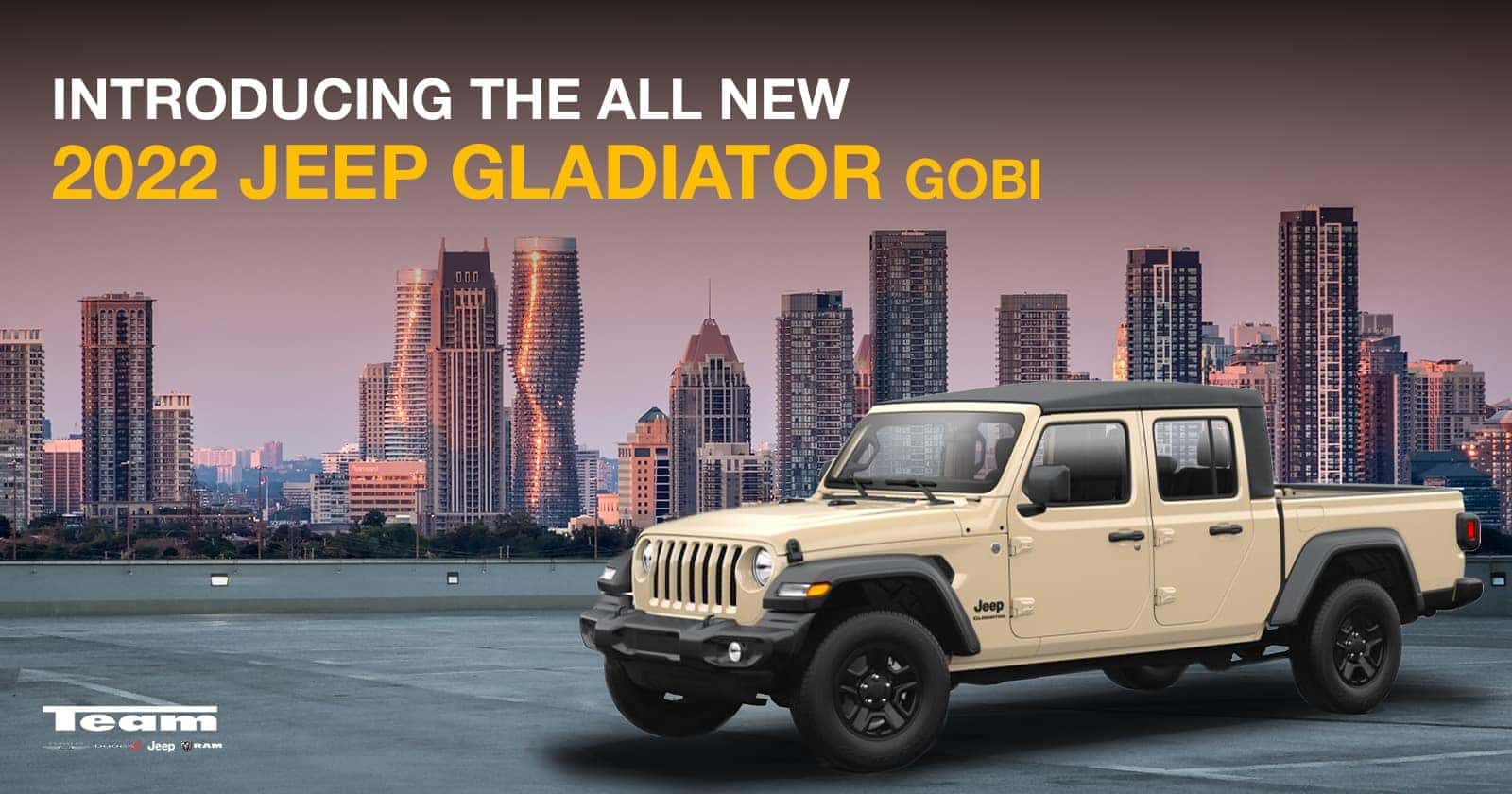 Are you dreaming of getting yourself into a 2022 Jeep Gladiator? This exceptional truck is known for its off-road capabilities, tough and rugged appearance, and limitless potential. Made to stand out in a crowd and carry you through any adventure, the 2022 Jeep Gladiator gets even better with a new limited-edition colour that we know you'll love. At Team Chrysler, we are excited to announce the new Jeep Gladiator Gobi colour and look forward to helping you get into the Jeep of your dreams.
Team Chrysler is your first choice when looking for a 2022 Jeep Gladiator for sale Mississauga, Brampton and GTA-wide. We have access to the exciting new Gobi colour option and can't wait to help you get into your dream Jeep truck. Contact us today and get ready to make the most of every adventure in a 2022 Jeep Gladiator in a colour that's just right for you.
What Are the Top Features of a 2022 Jeep Gladiator?
The 2022 Jeep Gladiator is a seriously tough, adventure-ready truck that is a fan-favourite for anyone who loves Jeeps. It's made for the person who goes farther and has more fun than the average truck owner. Look forward to the following features in your Jeep Gladiator.
Incredible 4×4 capabilities
Removable doors
Folding windshield
Best in class V6 towing
What Trims is the Limited-Edition Gobi Colour Available In?
The new Gobi colour available in the 2022 Jeep Gladiator is made for anyone who loves adventure. With a sand and desert-inspired feel, this colour option is adventure-ready and is the perfect choice for those who love sandy, summer days. Find the Gobi colour option in the following trims.
What Top Options are Available for the 2022 Jeep Gladiator Gobi Colour?
Everyone likes something a little different, and when it comes to the top option for your Jeep Gladiator, your personal style is essential. Stay true to what you love most and choose from soft top, black hard top or body colour hard top options for your 2022 Jeep Gladiator.
How to Finance a Jeep Gladiator in Mississauga
Ready to get yourself into an exciting 2022 Jeep Gladiator in Gobi? Contact a member of our expert sales team today or apply for Jeep Gladiator financing online to start the process. We look forward to helping you get into a Jeep you love that is always ready for adventure.