2022 Ram 1500 TRX for sale | Toronto, Mississauga, Brampton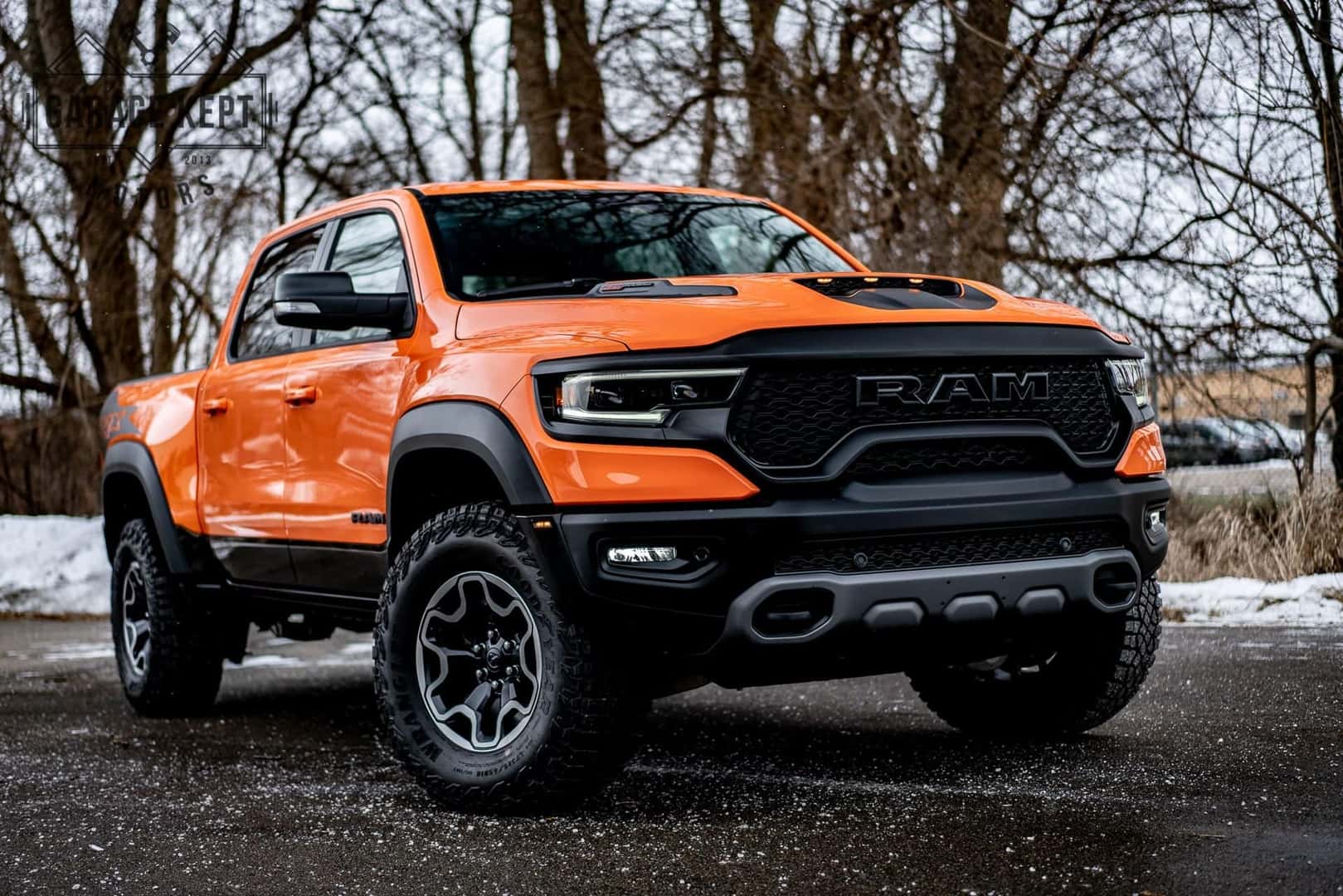 2022 Ram 1500 TRX truck is available now for Sale at Team Chrysler! Call our General Manager, Kian, at 416-456-6123 to order one.
New Glam For Ram
Now you see it, now you don't! Come one come all to discuss the amazing new conjecture surrounding the 2022 Ram Rebel TRX. Just like the fearless lion tamer, death defying trapeze artist and mystifying hypnotist this heard of but not seen performance pick up truck has acquired a shiny new poster to proclaim its arrival! How might you ask? Now spectators who watch the arrival of fine pick up trucks have a visual to anticipate arriving at their local Chrysler dealership in Toronto, Oakville, Mississauga, Burlington, Brampton, Barrie and Heartland, to get a first spectacular glance of the 2022 Ram Rebel TRX when the performance begins with its 6.2L supercharged V8 engine, 702 horsepower and 35-inch off-road tires.
There is a lot of speculation about new vehicles and sometimes stories can need some solid details. Now, where the 2022 Ram Rebel TRX is concerned things are looking a little more clear and a lot more tantalizing. The pick up truck industry has had its share of great new trucks but this one is the one whose reputation is starting to precede it, especially as many artists are producing images of prospective trucks. In the above image the artist has really hit on the Ram essence. Just eyeballing it makes me feel like I am experiencing the power and momentum of Ram trucks, as well as the possibility of new delights. I also totally dig the flashy chosen colour scheme, nicely done. The truck they are laying the asphalt for, in the total battle of pick up trucks, is starting to suggest it will up the stakes to a new level. That is if they play their cards right. For decades Ford has ruled the performance pick up truck industry with the mighty Ford-150 Raptor, which Ram could elbow to the side a little, here's hoping!
The fact that Ram is planning on that is not a new story. In 2018 the Fiat Chrysler began its production of the 2022 Ram TRX Hellcat concept. A report from Allpar gave us some telling info on this new pick up. Their sources claimed that the performance pickup will not be built for the 575 horsepower like the Rebel TRX concept, not at all. The new 2022 Ram Rebel TRX will amaze and astonish you with the expected 700 hp it has available.
FCA's coveted supercharged 6.2-litre V8 engine has produced at least 702hp. So, when we are guessing about the 2022 Ram Rebel TRX remember, why would they fix something that is clearly not broken? The same sources also say that the eight-speed automatic will be supporting a "heavy-duty" four-wheel-drive system. So when all is said and done I think we will have a pretty phenomenal performance to expect.
The Rebel TRX truck seemed to be basically ready to be rolled out to dealerships in Q1 2021. In essence we may not know all the finer details very soon, however the FCA has alighted our senses with launching the pickup truck back in November.
The new Rebel TRX will be the truck of the tomorrow for outdoor lovers but it will presumably boast all the modern conveniences of the Uconnect software. This gives the driver access to modern connective tools, entertainment and navigation functions on the touch screen or centre stack. Each brand comes with specific graphics and functions but the main system is the same in every vehicle with Uconnect technology. Meaning it will dependably be straight-forward, relatively easy to use and look fantastic. This makes the software one of the favourite infotainments systems on the market according to Digital Trends website.
At this point it is understood that the Ram TRX debut cannot be expected to happen for a while, as the Fiat Chrysler team told us in 2018 that there was a five-year plan this vehicle was a part of. The only thing we can know for sure is that the information we do have makes it most likely to be a 2022 release, so we are hoping that we will see this grand entrance sometime next year. Unless that hypnotist can convince Chrysler to speed things up we will just have to buy some popcorn, get good seats and enjoy the opening acts before the 2022 Ram Rebel TRX materializes, perhaps even accompanied with a flash and a poof a magician would be proud of.
2022 Ram 1500 TRX truck is available now for Sale at Team Chrysler! Call our General Manager, Kian, at 416-456-6123 to reserve it.