2022 Chrysler Pacifica AWD Mississauga, Brampton, Toronto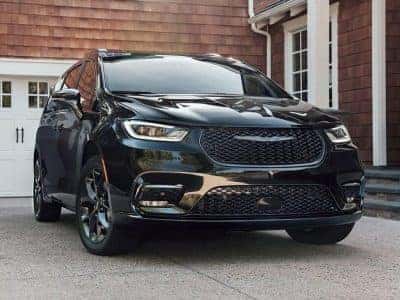 A Minivan for Modern Families
They say you can't teach an old dog new tricks, however when it comes to the new and improved 2022 Chrysler Pacifica AWD that is definitely not the case and when they roll in to your local dealership in Toronto, Mississauga, Oakville, Burlington, Brampton and Heartland you can see for yourself. Chrysler have been in this race from the beginning, heck they invented it, as Mary Ann Capo, senior manager of Chrysler brand product was not shy to say at the Canadian International Autoshow,
"We invented the segment. We invented the minivan. So we take pride in always being the one to innovate."
Pride indeed! It's true, the 2022 Chrysler Pacifica is the headlining model having first appeared in 2017 to glowing reviews, it has now resurfaced a mere four years later with a major update. Comparatively that is a pretty quick turnaround, and that's not just for the FCA but for the minivan segment itself.
These new innovations to the brand are substantial from the outside in. The trim level has been spiced up so much they created a cross-over-inspired look, coined the trim level the "Pinnacle." Now that's what I'm talking about! Talking trim levels there will be four to choose from, the Touring, Touring L, Limited as well as the 2022, Pinnacle. To the flashy outsides the 2022 Chrysler Pacifica has added all-wheel drive and that is just getting the party started! As the industry moves towards the utility vehicles, four-by fours as well as all-wheel-drive they are aiming to not just stay in the race, they want to lead the pack. Capo explains,
"When we launched the Pacifica four years ago, we took the traditional minivan to a new place with its design already. And I know our customers are telling us already 'you know, it looks like a crossover,' and that's what they want. So why wouldn't we give it to them? We're actually just continuing to evolve."
The Toyota Sienna has had all-wheel-drive for years so the Pacifica has made some changes to keep its brand class-exclusive. The unique Stow 'N Go seating lets drivers drop the third- or second-row seats flat into the floor. No more hauling a seat out of a minivan to make room! In this way the Chrysler Pacifica's new look takes it closer to that segment without doing away with its family-friendly theme.
The practicality of family type vehicles arrived with Pacifica's introduction in 2017, however Chrysler simultaneously nudged it towards added luxury. This took it away with style, from budget-conscious, fleet-friendly Grand Caravan that the market called for. With the introduction of the Voyager there is more room to run further towards a more luxurious family mover. Moving on to the unique qualities of the Pinnacle, with its chrome platinum badging it has been outfitted with an exclusive black and caramel colour scheme. Quilted Nappa leather interior and pillows! Capo laughs as she says,
"The pillow, we sort of laugh about it: it was something we went back and forth on, but in the end I'm so happy we did it because it is unique. The kids are gonna love it, they might have pillow fights, they might sleep with it, it might end up in their bedroom, who knows where in the house it might go! But it's a cool thing, and also it just elevates what the experience is in this interior."
I'm not so sure I would like the addition of a pillow fight to our road trip but I would definitely appreciate the enormous center console storage or "Ultra Console". It gives you wireless charging in the Pinnacle, at least 12 USB ports stationed throughout the gigantic interior to support your tech savvy family. The newly included Uconnect 5 "infotainment" centre will also go a long way touting an up to 10.1 inch screen displaying wireless updates, multiple files i.e. personal radio, climate and seat settings, as well as ones for your partner, all switchable at the touch of a button. And we haven't even touched on the 116 safety features yet. And check out those rear facing mirrors to keep an eye on the kids, even the ones in car seats. Just one of the perks with this minivan. Capo explains,
"There is a safety element of course with minivans, being family people haulers. The 2022 Chrysler Pacifica has always offered quite a bit as far as safety. We added new standard LED lighting, so headlamps, foglamps, taillamp with the new design. LEDs are going to be better illumination, better light pattern spreads. We also added standard the pedestrian automatic emergency braking. We do offer a whole other suite of safety features in Canada that are available, like adaptive cruise control, lane departure—all of those things continue. We did a comparison in the marketplace. We have the most standard and available safety features. We take pride in making this a safe vehicle, because you're carrying your children, and what's more important than that?"
Well said. As a mom of two that really is what it comes down to. Sure I like the flash and sparkle; and for sure the practical devices that make trips run more smoothly are exciting. However moving with the times is technology, so whether it is market demand for modern families and their gadgets or more security along the way I will take it and go into the future. However for the moment we have got some options for those things. Those that like the current look will still be able to get it with Voyager. It's worth pointing out, as customers that need something right away will be able to take advantage of them. Capo assures customers in the current market,
"They're going to (be able to) buy the current appearance of the Pacifica with that all-wheel drive. Those that aren't in the market right now, coming fourth quarter, when these are actually at dealerships, they can get the nice one too. It's going to be a transition, a choice that they have."
Choice is certainly key, so no matter what you are looking for to move your family, the Chrysler family has a minivan for you!