Jeep Renegade Plugin Hybrid | Toronto, Mississauga, Brampton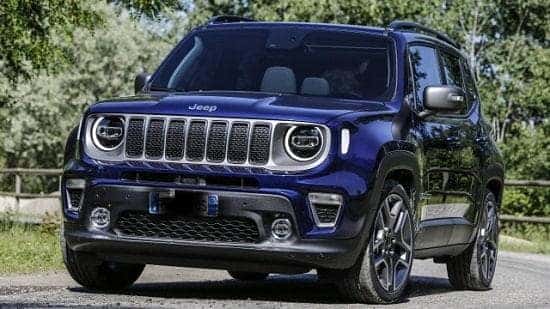 True, there was more resistance about electric vehicles (EVs) when FCA was presided over by the late Sergio Marchionne. Under succeeding CEO Mike Manley, plans to pursue electrification have resumed. Back in June, the 7th largest carmaker in the world indicated that it would invest close to 10.3 billion dollars in electric and hybrid models over the next five years of production. The goal: to become fully compliant with emissions regulations across all European regions. So what exactly does that mean for drivers in Mississauga, Brampton and Toronto?
Feeling a bit resistant to the idea of an electric or hybrid vehicle? You're not entirely alone. Let's take a good look at what's up in FCA's European production plan. Pledging to completely phase out diesel engine passenger cars completely by 2021, FCA is expected to release a Jeep Renegade plug-in hybrid at their plant in Melfi, Italy, where other green-friendly vehicles are already in heavy production. With a 200-million Euro investment toward redesigning the engine, retraining workers and modernizing the plant itself, FCA is fully committed to the demands of customers for more environmentally friendly options. By 2023, insiders say that the carmaker will offer 12 electric propulsion systems, including battery electric vehicles (BEV), plug-in hybrids (PHEV) and full hybrids. That means that thirty different models will be equipped with one or more of the new greener systems.
Still hesitant? Well, if saving the environment isn't your topmost concern, perhaps the promise of saving money will nudge you toward a hybrid? While purchase prices on hybrids are comparable to standard models, the bigger savings flow through after you purchase your EV. Fluctuating gas costs? Long week-end gouge-o-rama prices at the pumps? No longer your problem. Charge up at public charging stations (some of which are free) or, even more conveniently, at your own home. (Off peak hours would yield the highest savings for at-home charges, obviously.) If the average Canuck driver clocks about 20,000 km per year on the road, that's a savings of $1000-2,000 per year just on fuel alone. EVs also have fewer moving parts and don't require oil changes, so that's even more money saved. From the manufacturing standpoint, most EVs do use lithium-based batteries, and they do require more energy to manufacture. But when you drive an EV, you're producing fewer polluting emissions over the lifetime of the car, which significantly reduces your carbon footprint.
Many Canadian drivers are understandably concerned about performance in cold weather, access to charging stations on longer drives, and the overall safety of vehicles powered by electricity. If you're among those concerned car owners, consider this: most new electric cars go more than 200km on a single charge. With the typical car trip rarely exceeding 80km, you probably don't need to worry too much about running out of charge. For those of you who need to make longer trips, there are 5000+ public charging stations in Canada, a number that only continues to grow. Several are being added to the TransCanada highway system as we speak. And a number of businesses not directly related to the auto industry (hotels, restaurants, malls) are offering charging stations as a sweet perk for their customers. Charge while you dine, anyone?
Winter is a harsh reality most Canadians face. Electric vehicles do have shorter range in winter, because batteries are, simply put, less effective when they're cold. And as we know, it gets C-O-L-D here. A simple way to extend the range of your EV is to warm it up before driving, an ancient custom practiced by our grandparents that has gone out of vogue with today's high-performing standard fuel vehicles. Another simple way to increase the winter range of your EV? Stop speeding. (We know YOU don't speed, but we thought we'd mention it to those other road warriors out there.) You can also use the low-energy settings. And if you're still not convinced about EVs being suited to the Canadian climate, check out the country with the highest adoption rate for these environmentally friendly vehicles: chilly, snowy Norway. Still want more information? You can visit us at the dealership and check out this handy website too. https://www.plugndrive.ca/
Lovers of the
Jeep Renegade
have reasons to be happy: Jeep says, it will release a plug-in-hybrid version of the subcompact Renegade SUV. This plug-in model will be built at the same Italian plant that produces the Renegade and the Fiat 500X, close cousins of Jeep. Popular since its debut in 2017, more than 742,000 Renegades have been built at the Melfi plant. US-based Renegade fans likely already know that their Renegade rolled off the line in Melfi. With no specifics from Jeep regarding the engine or hybrid system for the plug-in hybrid, we do know that both the hybrid and standard models will be produced in tandem. After an update for the 2019 year, the Renegade gained a spiffy new turbocharged 1.3-liter four-cylinder engine. Rumour has it that the newer turbo four could be the leaping-off point for the new plug-in system.
We've been excited about the award-winning Chrysler Pacifica for awhile now. When it comes to choosing a minivan for your family, this one scores high. And with orders from fleets like Waymo in the offing, this vehicle only gains momentum. The Chrysler Pacifica minivan is the only PHEV available from FCA at this moment, but Manley has also indicated that a Wrangler plug-in is also in the works. As part of a new five-year plan, FCA has said that it will bring out models with at least one of four systems: mild hybrid (like the 48-volt system in the Ram eTorque pickups), full hybrid (much like a Prius), plug-in hybrid, or EV. When it comes to Jeep models, we've been told to look forward to 10 different plug-in hybrids and four fully electric offerings by 2022. Firm news about US and Canadian availability on these greener options is tricky to nail down completely just yet, but it's very likely we'll see at least a few options in North America very soon.
Where is Team Chrysler?
Team Chrysler is located at 777 Bancroft Drive in Mississauga, Ontario.