2022 Dodge Ram 1500 Ecodiesel | Mississauga, Brampton | For Sale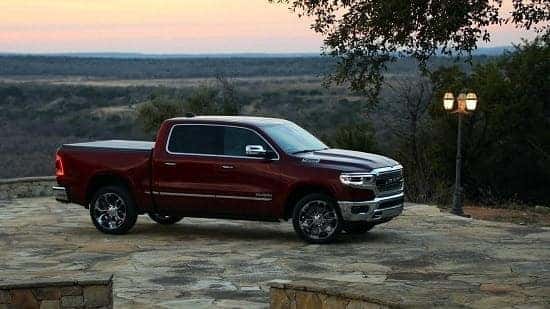 RAM has beaten the competition once again. We are excited to announce that not only is RAM bringing back the EcoDiesel option, but it's also available in the 2022 RAM Rebel. RAM was the forerunner in bringing the EcoDiesel to the half-ton segment and with its third generation 3.0 L V6 it's right back on top where it belongs.
RAM ran into some U.S. regulatory issues with its earlier versions, but appears to have dealt with whatever those issues were and launched the all-new 2022 RAM 1500 with the EcoDiesel option.
RAM EcoDiesel: Best-in-Class for Power
The 2022 RAM EcoDiesel will push 480 lb-ft of torque and boasts a towing capacity of 12,560 lbs. That's only 190 lbs less than the RAM 1500 5.7 L V8 and that's what makes the engine best-in-class. For a smaller engine, the new EcoDiesel really pulls out in front.
The 2022 Chevy Silverado/GMC Sierra Duramax puts out 460 lb-ft, but we don't have any towing numbers yet. The 2019 Ford F-150 Power Stroke puts out 440 lb-ft and tows 11,400 pounds, so as you can see the RAM EcoDiesel really kicks butt.
All the U.S. diesel pickup half-ton truck options will be turbo 3.0L V6 engines. While the torque and payload numbers show there are some differences in performance, they are mostly based on the engineering of the truck they are in.
RAM Offers the EcoDiesel in the Rebel
RAM is offering the EcoDiesel in all its models, but it's the first time it will be offered in the RAM Rebel. The Rebel is a stylin' looking truck, always ready for a challenge and showcases a lot of refinements. The EcoDiesel's efficient fuel economy and extended range just make it that much more appealing.
About Fuel Efficiency
Diesels are famous for their fuel economy and the RAM 1500 EcoDiesel is no exception. The previous generation RAM EcoDiesel had a pretty impressive 15 L per 100 KM city and 10.5 L per 100 KM, highway. The new generation RAM promises to beat out the competition as well.
RAM 1500 EcoDiesel is Also Built for Comfort



Comfort isn't only about seats and air quality, it is also about noise. The new EcoDiesel promises to be quieter and that in and of itself reduces stress levels and keeps the driver focused on the road. There are good noises and bad noises, however, and the optional 12-inch infotainment system is definitely a good noise.
Comfort in ride matters too and RAM beats the competition with its exclusive link-coil suspension or full air-suspension option. The small amount of added weight due to the diesel engine shouldn't affect the ride in any kind of serious way.
New Generation Redesign Specs:
Redesigned cylinder head and intake ports improve incoming air

 
Aluminum pistons have been upgraded and use thinner rings and a low-friction coating on the wrist and side skirts

 
Compression ratio has been increased from 16.0:1 to 16.5:1

 
Injectors have been optimized with the new combustion chamber

 
Wrist pins are slightly offset to reduce noise, vibration and harshness

 
Redesigned exhaust-gas recirculation system boasts a new dual-loop design which increases fuel efficiency

 
Water-cooled turbocharger also improves efficiency and responsiveness

 
Dual vacuum pump system now uses electric and a revised mechanical low-friction pump also improves efficiency

 
Compacted graphite iron block and forged steel connecting rods and crankshaft boost strength and durability

 
RAM EcoDiesel Rebel: Coming Soon to Team Chrysler
You've been patiently waiting for it and your patience will soon pay off! Stay tuned for more up-and-coming news on the 2022 RAM EcoDiesel.
Want Some Tips on Towing?
Know Your Tow Capacity
Your owner's manual will indicate the tow capacity for your particular vehicle. In other words, the weight you can safely tow without causing damage to your engine. Familiarize yourself with the following three terms. Base curb weight: how much your truck weighs, including fluids, a full gas task and any added-on equipment. Cargo weight: Passengers, cargo and add-on equipment like sunroofs. Allowable payload: This is the maximum weight your truck can carry including cargo and passengers. 
Weight Distribution Is Key
Ever loaded a moving van only to hear several discouraging thuds as you round a turn? Proper cargo loading practices hold true as you prepare for a tow. The rule of thumb: load the heaviest cargo first, securing it with rope or bungee cords. Smaller pieces of cargo are best fitted in around the larger ones, reducing the possibility of shifting cargo in transit. Keep the center of gravity low, with about 60% of the weight placed toward the front. Balance the sides of the trailer too, to prevent flipping. 
Brake Synch
Make sure your brakes are synched with the brakes of the tow vehicle, which really should not be forced to do all of the work. Due to the added weight of the cargo, a collision is much more dangerous. Gentle braking, as opposed to hard, sudden braking, is also much more safe and effective during a tow. 
Slow It Down
Speed equals sway when you're towing, and sway is not what you want, so slow your speed for a safer tow. Other drivers will pass you, and that's fine. A manageable speed allows for safer lane changes and overall control. The most important thing is to get you, your passengers and cargo safely to the destination of choice.
Cool It
If regular tows will be on deck for your truck, consider the demands on your vehicle's internal systems. Increased weight equals increased heat, and the heat adds stress to the transmission. Your truck is working harder, so the oil circulating through it is hotter. A transmission cooler is a great investment, especially for automatic transmissions. A higher-capacity radiator or cooling fan is another excellent way to cool it all down to protect your truck during tows and avoid high-cost repairs down the line. 
Where can I service my RAM 1500 Truck in Toronto or Mississauga? 
Team Chrysler is located at 777 Bancroft Road, Mississauga. Service and repair are available on all trims of the Ram 1500 EcoDiesel. Licensed diesel technicians are on staff. Call (905)-817-7772 to book an appointment or https://www.teamchrysler.ca/service/index.htm to book your appointment online.