2022 Dodge Ram 1500 Ecodiesel For Sale | Mississauga, Brampton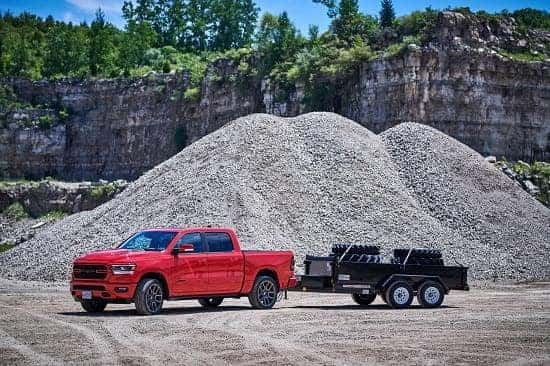 The recent DieselGate scandal considerably dropped the numbers of diesel vehicles sold across the nation—except in half-ton trucks. The emissions-gaming scheme didn't have much effect because carmakers and truck drivers have long since realized the benefits of a diesel engine in the workhorse pick-up.  Ford has released a 3.0L diesel in the F150; GM has put a 3.0L straight six into the Silverado and Sierra and the 2.8L diesel in the mid-sized Canyon and Colorado will also be sticking around. Ram's 2022 1500 EcoDiesel is the model most deserving of the hype, though, Toronto, Barrie and Oakville.
Ram's engine boasts best-in-class torque, towing and efficiency. It doesn't get much better than that! At 260 HP and 480 lbs of torque, it blows the doors off everyone else in its class. The 2022 Ram EcoDiesel tows 12,560 lbs in its 2WD versions and about 12,100lbs in its 4WD version. As well, Ram doesn't just offer the EcoDiesel engine in one or two of its trucks, it offers that engine in ALL its trucks, including the brutish Rebel and the savvy Sport.
The EcoDiesel engine is at home in the Ram 1500 offering unsurpassed levels of power that cannot be replicated with gas or electricity.
Diesels have long been known as clattering noise boxes, but the 2022 Ram 1500 EcoDiesel is remarkably quiet. While Ram kept the compacted iron graphite block and high compression common-rail injection, the other 80 per cent of the engine is brand-spanking new technology. The compression ratio is higher, at 16.5:1, to cut down on the noxious stuff that comes out of all tailpipes. A first for a North American diesel engine is a new dual high pressure and low pressure exhaust gas recirculation system. It builds on the old high pressure EGR which removes gasses from the exhaust manifold, by creating a new low pressure EGR system that draws exhaust gasses after they exit the diesel particulate filter. The Selective Catalytic Reduction system is 50 per cent larger and goes with a new-generation diesel oxidation catalyst that uses Diesel Exhaust Fluid to reduce NOx. The water-cooled turbo charger has variable geometry and redesigned intake ports, in addition to its redesigned combustion chambers and pistons.
This new technology should go a long way to help restore consumers' faith in the diesel and it will also go a long way in confirming what Ram diesel owners already know—that the Ram 1500 EcoDiesel is at the top of its game.
Where is Team Chrysler located? We are at 777 Bancroft Drive in Mississauga.