Dodge Charger Hellcat Daytona for Sale | Mississauga, Brampton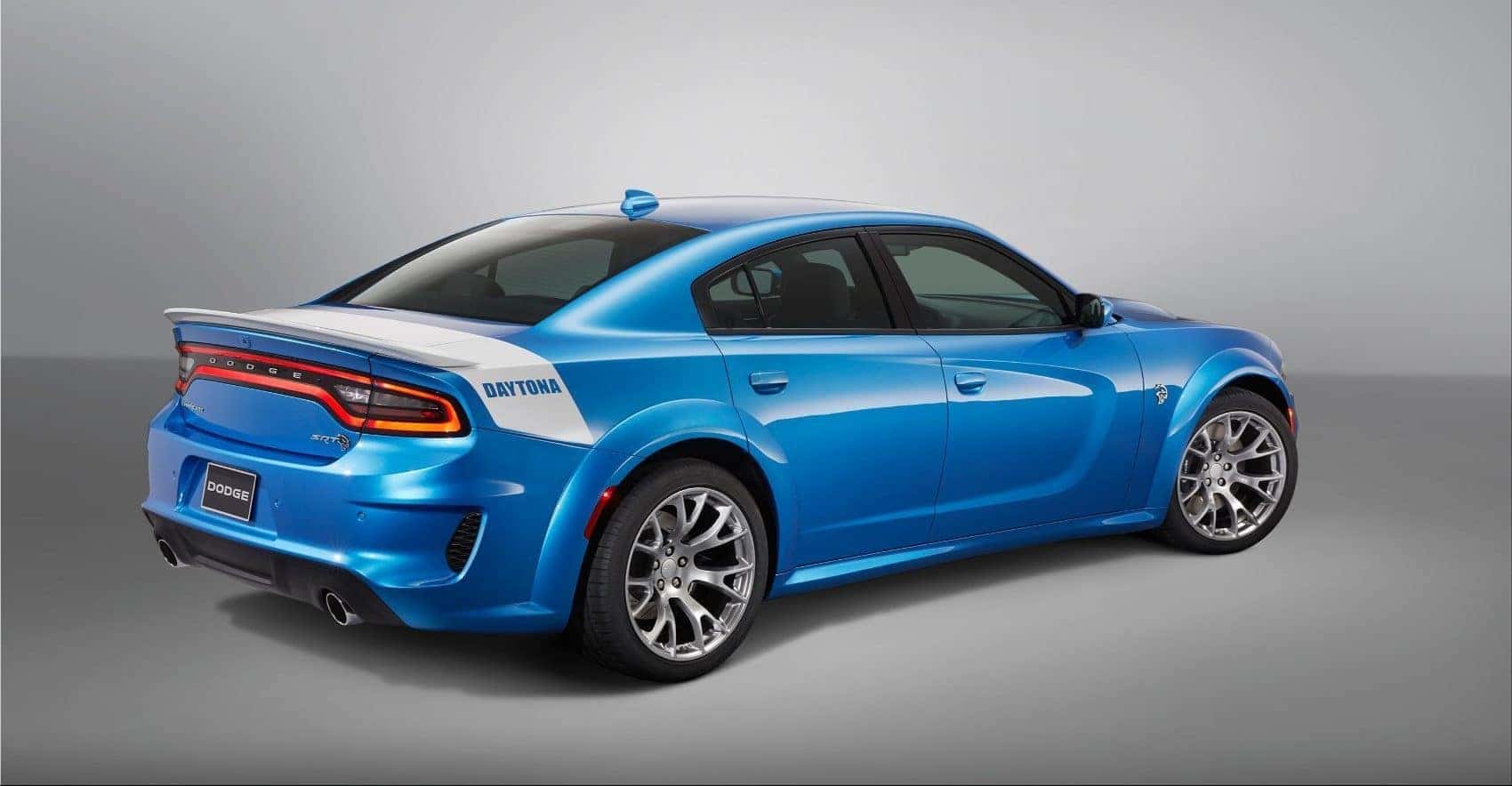 Start Your Engines
Are you feeling a little need for speed? Well Dodge has revved up to bring us the Daytona 50th Anniversary Edition of the Dodge Charger and it is with widebody proportions. This blue beauty you see above is a 717-hp version of a Hellcat to add to the Charger family. You can just see the devotion that went into creating this as an adoring tribute to the 1969 Dodge Charger Daytona. It is likely to be highly coveted as there will be only so many to go around, only 25 produced in Canada to be exact. So right off the top I'll say get your butts into the Toronto, Brampton, Oakville, Mississauga, Barrie, Heartland or Burlington Chrysler dealerships for a look see.
While the rest of the industry is busy creating crossovers and electric hybrids and focusing on CAFÉ regulations, miles per gallon and Elon Musk, Dodge busy winning a totally different race. Dodge is the obvious winning contender when it comes to the hard core construction of todays finest muscle cars. The appeal of Hellcats not to mention Demons, Scat Packs and Redeyes is the raw, loud, hell for leather, eat my smoke kind of deal we have come to expect about Dodge muscle cars.
"My main goal was to make the cars look bad ass," said Mark Trostle, FCA's head of performance, passenger and utility vehicle design. "It was my job to give these cars attitude." Job well done Mark!
For these Dodge editions of Hemi-powered, rear-wheel-drive rockets they include Widebody versions of the Charger, the Scat Pack and the Hellcat, also of course emulating the Widebody Challenger models, which we first saw in 2018. With the new edition in question, the Charger SRT Hellcat Widebody Daytona 50th Anniversary Edition is a nod to the 1969 Charger Daytona Nascar. This includes the rear stripe graphic with a new "Daytona" decklid and that classic Daytona B5 blue paint, which is the colour of choice for Mopar muscle car lovers. It will also be available with Pitch Black, Triple Nickel, or White Knuckle paint as well. The  Charger is also ramped up with special aerodynamics for superspeedways, an impressive rear wing and pointed beak with pop up headlamps.
"Customers said we were giving too much love to the Challenger and ignoring the Charger," said Jeff Strauss, senior manager of Dodge/SRT Sales Operations. "That's not the case anymore." Well clearly not!
The Widebody option will also be available on the Charger Scat Pack but it will be standard on every Charger Hellcat. This equipment only adds about 30 pounds to the car so it won't be weighed down. Just like the Widebody Challenger, the plastic wheel well flares widen the sedan's 3.5 inches, and their wider 20×11-inch forged aluminium wheels don a set of massive 305/35ZR20 tires front and back. The All-seasons are standard, but the cars drive most effectively on Pirelli Summer tires. There are also new front and rear fascias, rocker trim and a reshaped rear spoiler.
The handling of the Hellcat also just got easier, what with 1.6 inches of additional track width, compared to its narrow-bodied predecessor. Along the road to success some modifications were made after testing at several racetracks (i.e. Gingerman in Michigan and Nelson Ledges in Ohio). The SRT's engineers increased the Hellcat's front spring rate 32% and increased the size of its sway bars. The front has been moved from 19 mm to 21.7 mm and the rear has increased from 32 mm to 34 mm. Its adjustable Bilstein shocks have also been lightly firmed up so they are adaptive. This switch to the much firmer Track setting occurs as soon as you increase demands.
If we are going to talk suspension the The Widebody Charger Hellcat's suspension isn't as stiff as the Challenger version's, and the Charger Scat Pack's suspension is a bit more pliable. In Street mode the Charger Hellcat p ride is solid but still relaxing and on the inside you can't hear much noise on the highway as it drops down in top gear. The other great aspect to this car is that it prevents a lot of body roll, providing just enough to help you feel the tires on the road and chassis as you speed into a higher gear. Although it is still quite a large, wide and weighty automobile with an extra 4 inches on the wheelbase compared to the Challenger it is fairly fleet of foot even when the roads narrow.
It is reasonable to think that the Charger with such specs would be a little weighed down, 56% of that weight being over its enormous front tires, but it is in fact very expertly balanced and made to take on the curves. It's just solid and rotates on the brakes well on slower corners, which means you to drive out on the throttle in long, controlled power-slides. However these moves are not for the faint of heart. With more experience comes mastery, but until then you may want leave its stability control on.
Other changes include electrically assisted power steering, included on the Challenger Hellcat got in 2018. Like the Charger's suspension, transmission and traction control with Street, Sport and Track settings. With a supercharged 6.2-liter Hemi V8 it's still got 707 horsepower at 6,000 rpm and 650 pound-feet of torque at 4,800 rpm. The V8 light engine lets it fly faster as it kicks it into high gear.
Acceleration was also evaluated on multiple tracks including the Orlando Speedworld in Florida. There with the sticky summer tires and the Charger's Launch Control, programmable from 1,200 rpm to 2,400 rpm, Dodge confirmed that the Widebody Hellcat hit 60 mph in 3.6 seconds and covers the quarter mile in 10.96 seconds. Top speed is 196 mph. It handles a better than the Hellcat. Dodge says it'll pull .98g on a skidpad, while the Hellcat manages .96g. Both cars have six-piston Brembo brakes. So for the power, the speed and smoke you will leave behind as well as for the blue B5 nostalgia order a Charger Hellcat, fast.