2022 Jeep Cherokee Trailhawk for sale | Mississauga, Brampton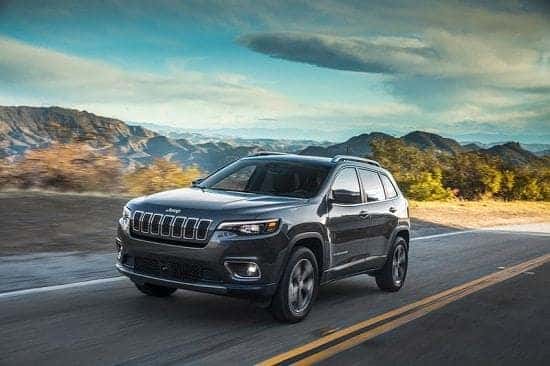 When Jeep first announced a redesign of the beloved Cherokee, way back in 2014, there were some grumbles from the purists in the Jeep fold, even here in Mississauga and Brampton. Once behind the wheel, people were more convinced: the Cherokee still drove with the heart of a truck, handling everything a good 4×4 should. While other trims in the Cherokee roster may feel more car/SUV than truck, enter the Trailhawk trim. If you've never had the pleasure, you might want to book a test drive with us today. But first, read on and find out why exactly.
What is a Jeep Trailhawk?
Take the Cherokee and give it elevated ride height (8.7 inches of ground clearance), an elaborate all-wheel-drive system and an off-road suspension that makes it a heavenly terror off-road. Capable, good-looking and equipped with Active Drive Lock, a locking rear differential to increase low-speed traction in severe weather conditions, it's also the perfect car for snowy commutes in the GTA. On- and off-road, the Trailhawk is, plain and simple, a lot of fun to drive. Did we mention how comfortable the seats are on this trim? You may not want to leave your vehicle.
How much can a Jeep Trailhawk tow?
The 2022 offers a new engine, the turbocharged 270-horsepower 2.0-liter four. Or, opt for the established choices: a 180-hp four-cylinder, or the 271-hp V-6. All engines are matched up with a nine-speed automatic transmission. Towing is definitely an option: the standard base engine tows up to 2000 pounds, the turbocharged four can handle 4000 pounds and the six is good to go up to 4500 pounds. The Active Drive II AWD system includes a two-speed Power Transfer Unit with torque management and simulated low-range gearing. Drop it into 4-Low mode and lock the front and rear driveshafts for low-speed power or towing. Neutral allows for flat-towing.
Is the Jeep Trailhawk good for road trips?
Smooth ride, comfortable seats, fuel economy of 22 mpg combined/20 city and 26 highway: this is a Jeep built for long drives in all kinds of conditions. Throw in options like a foot-activated power liftgate, heated and ventilated front seats and heated steering wheel, foxy leather upholstery, rain-sensing windshield wipers with de-icer and well, you can drive anywhere with confidence, any time of year. Add the possibilities of adaptive cruise control, automatic high-beams, full-speed collision warning with crash-mitigation and seriously handy lane-departure warning, the option of a 2.0-liter four-cylinder engine, a panoramic sunroof and (are you hyperventilating yet?) 9 amplified speakers with subwoofer: we can see you all preparing to hit the road, Mississauga and Brampton drivers.