Dodge Ram 1500 Truck is a Family Vehicle | Mississauga, Ontario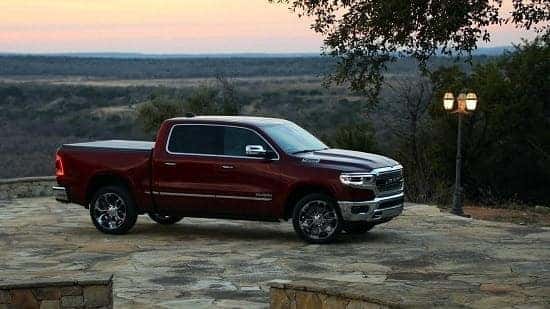 So, you're about to be in the family way and you've been looking at minivans and you just can't see yourself driving one? You're determined to be a responsible parent and you want something safe for the twins to ride in, but wow, do kids and their stuff ever take up a lot of room?! You can feel your dreams of owning that sports car fading into the mist—we get it—but worry not. RAM has the solution for you, Barrie, Brampton, Oakville and Toronto. It's the redesigned RAM 1500.
A truck, you ask? Yes, dear readers, a truck. The RAM 1500 is big. Big enough for the kids, all their stuff, your spouse, the dog and even a deftly packed picnic. The stuff goes into the box, of course, and there still should be enough room to put the kids far enough apart inside the cabin that they're not going to argue about who's touching who. Want to take the family out in your boat? RAM's got that covered too. Just back that hitch up to your boat, hook-up and go.
Cabin & Cargo
If you're remembering back to your adolescence and dusty, rusty old pick-ups with a quilted dash, a sickly sweet chemical smell oozing from a "fruit" scented deodorizer and a utilitarian bench seat with the odd pokey spring, we need to do a little catching-up. The RAM Limited's interior is nice. And by nice, I am not saying, "Oh, it's okay…" I am saying "The interior of a RAM 1500 Limited is much cushier than you could even imagine. Maybe much cushier than a truck even should be. Nah, I take that back…why should trucks lack the comfort and luxury of cars? Do we not desire and deserve comfort wherever we are? I say yes.
The Limited trim version comes with heated and cooled leather seats, a large 12-inch center stack touchscreen, power adjustable pedals, power folding mirrors, a panoramic sunroof and a 19-speaker Harman Kardon audio system.
Not only is the interior really quite nice, it is also well-organized. There's a cubby hole available for LEGO, My Little Pony, toy cars and dolls. Oh and also a coffee or two if you're so inclined.
If you need to bring along your gangly teen nephew whose body managed to reach 6' 3" before the rest of him was ready, there's enough slouch room for him, too.
The interior finish in the RAM 1500 is sort of a classy country melding, but it manages to pull that off with flair. There's cowboy-style stitching on the doors, console and seatbacks and often barn wood trim on the panels—that beats cheap plastic finish any day.
The available RAM Boxes are fun. They are lockable cubbies in the sides of the bed that even come with drains, should you be so inclined as to bring that picnic along on ice. But they have a myriad of other uses as well, like a stroller or enough diapers to get through Thanksgiving at your mother-in-law's.
The bed itself is good for pretty much whatever you throw at it. There's lots of room for a spring yard clean-up before you head out on the road with your family.
The Ride & Fuel Efficiency
Considering a truck is built to do some pretty tough work, it actually handles nicely and is very smooth on the highway. Let's face it, when the baby is finally napping, you will do just about anything to keep him in a state of slumber and ride matters in that situation. If you need to need to pass Melvin on his moped in the middle of the right lane on the 400, you can do it quickly and easily. Acceleration is definitely a strong-suit, but not much of a surprise for a V8 with over 400 lb-ft of torque.
But is the truck too high to easily get my family into it and buckled up, you ask? I can understand why you would ask that question but depending on the model you choose, but the answer is no. Some models have an electronic ride height selector where the suspension system senses when passengers are about to climb aboard and the truck lowers to make getting in with a child much easier. Like a camel in the desert, it will also lower itself if you need to get into the side storage boxes. There are also three settings that include a normal default height, a raised off-road setting and an aero mode that lowers the truck at higher speeds to form a more aerodynamic surface for conserving fuel.
The EPA label says the RAM 1500 should get 10.69 L per 100 KM on the highway and that's not too shabby, considering all you're getting.
Safety
Style, comfort and versatility aside, your family's safety is everything. The RAM 1500 came through the Insurance Institute for Highway Safety (IIHS) testing with flying colours. That's something that's got to make you feel better about what you're driving. While it did only get a "marginal" score for headlights, that is pretty common in vehicles today. Also a concern was ease of use for latch anchors for child seats, but we have never encountered a problem or a complaint on their location. Most of our customers have found that setting up a child seat was quite easy. The Crew Cab got four out of five stars for crash testing and IIHS rated it well for side impact crashes.
Verdict
So, if you're looking for a nice, smooth ride wrapped in some pretty nice luxury features, speedy acceleration and spots for all your people and all the infernal stuff that comes with them, the RAM 1500 just might be your truck. Hey, it's cooler than a minivan. Just sayin.'
Where can I service my Ram 1500 Truck in Toronto or Mississauga? 
Team Chrysler, located at 777 Bancroft Drive, Mississauga, services and repairs all trim levels of the Ram 1500 truck. Call us at (855)-734-3328 to book an appointment or go to www.teamchrysler.ca to book your appointment online.