Ram 3500 won Truck of the Year | Mississauga, Brampton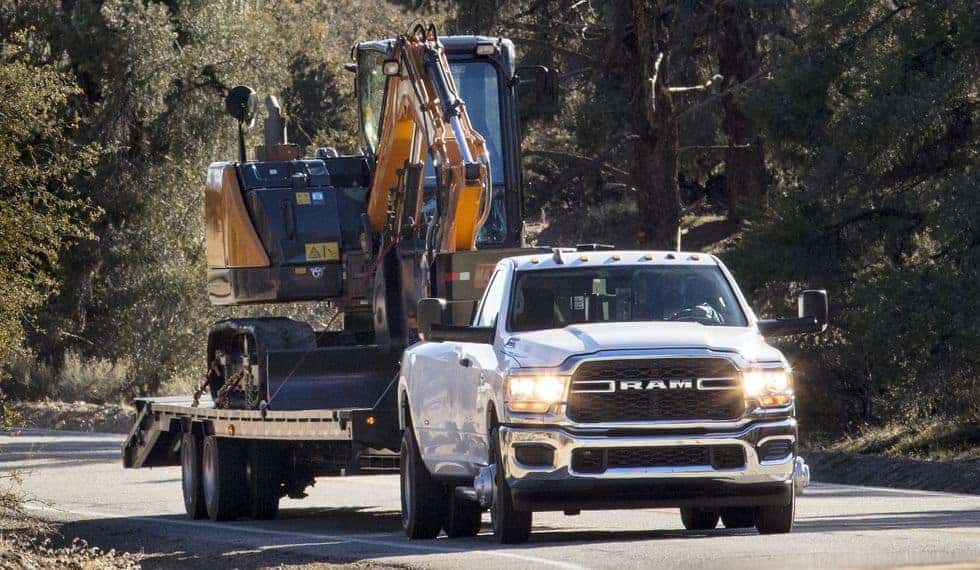 Our customers in Brampton, Mississauga and the Greater Toronto Area have excellent taste. You know an award-winning Ram truck when you see one, and we've got them for sale in the showroom right now.
The Ram 3500 Limited Mega Cab is a thing of beauty. Best in class available torque is served up by the 6.7L Cummins I-6, paired with a six-speed Aisin automatic transmission. We don't mind saying, it beat out the Second Place Ford by 5 lb-ft. Serious torque means that this truck is a towing and payload champ. The 3500 can take on hilly terrain with ease, even when hauling 12,500 pounds.
The Ram 3500 comes in a top-of-the-line Limited trim spec with black stained wood trim, rich leather seats and all the Ram bells and whistles you've come to appreciate. The Mega Cab offers tremendous legroom, segment-exclusive reclining rear seats and a whopping 7 cubic feet of covered storage in back. With its column-mounted shifter allowing for extra snack and drink space on the console and a nine-speaker Alpine stereo cranking out tunes, we can just see you purring down the road on your way to adventure. Tow hard, cruise the backroads or stir up the envy of fellow drivers as you pull up in this beauty, straighten your tux and hand the valet your keys.
Some sample specs:
Trim: Limited Tungsten
EPA Fuel Econ (City/HWY/Comb): NA
Engine: 6.7L Cummins I-6
Horsepower: 370 @ 2,800 rpm
Torque: 930 lb-ft @ 1,700 rpm
Transmission: 6-speed Aisin automatic
Accel 0-60 MPH: 9.78 seconds
Quarter-Mile: 17.11 seconds @ 83.87 mph
Braking 60-0 MPH: 148.10 feet
Accel 0-60 (Payload): 12.19 seconds
Quarter-Mile (Payload): 18.50 seconds @ 76.80 mph
Braking 60-0 MPH (Payload): 158.44 feet
Accel 0-60 (Towing): 21.23 seconds
Quarter-Mile (Towing): 22.98 seconds @ 73.87 mph
Weight: 8,258 pounds
Interior Decibel Level (at 60 MPH): 65
Tested Fuel Econ (Average/Best): 14.22/18.36
*4,000 pounds of payload **12,500-pound trailer weight
Feeling the love for this amazing pickup, for sale now in our showroom? Come see us at Team Chrysler.