Used Dodge Challenger Hellcat Widebody | Mississauga, Brampton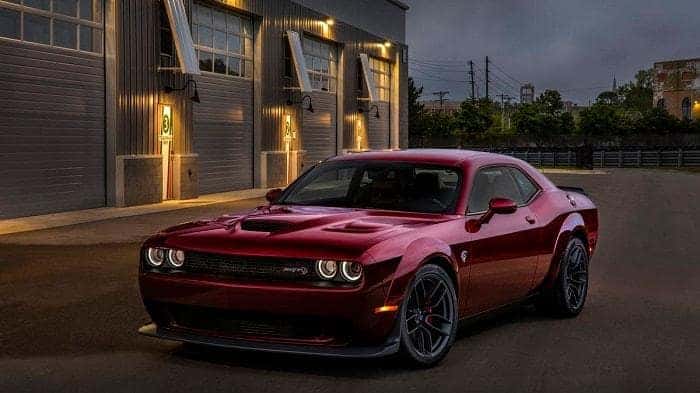 By now you may have been forced to accept that a Dodge Challenger SRT Demon probably isn't in your future. Dodge built a mere 3300 of these jaw-dropping factory drag racers, and sadly, that means a lot of Demon-seeking drivers in Mississauga and Brampton will be disappointed. But here's the silver lining news: Dodge has announced that their regular Hellcat is about to feature Demon widebody flares. And we think you'll feel pretty stoked about some other Hellcat perks, too.
When you order a 2018 Challenger SRT Hellcat Widebody, you'll get a 707-horsepower Hellcat with the Demon's stand-out fender flares, 3.5-inches wider than the regular Challenger Hellcat. And there's more, GTA drivers: take note of 305/35 Pirelli P-Zeros, mounted on 20 x 11-inch split-five-spoke aluminum wheels. And it's possibly the most pragmatic wheel-and-tire package we've seen on a Hellcat. On the original, your choice was standard-issue all-seasons (never ideal) or an optional upgrade to 275/40 Pirelli P Zeros. On a drag vehicle, you really want (and need) that extra grip. And how do you feel about a widebody that clocks 0-60 in 3.4 seconds and nails down a 10.9-second quarter-mile? Top it off with electric power steering, with Street, Sport and Track modes and you are literally good to go hard.
Ahh, that grip. With these enhanced cornering capabilities, the Widebody offers 0.97g of lateral grip, an improvement of 0.04 on the previous incarnation. You're looking at the most track-worthy Hellcat to date, with those massive rubber under her wheel-wells. Hellcat followers may recall that the basic model vaporized its rear tires if you jacked beyond 30% throttle, and don't forget that the notorious Demon's DOT drag radials aren't all that well-suited for drives too far beyond the drag strip.
When it comes to engine cooling, Dodge has stated that "engine power will not be de-rated due to cooling demands after 20 minutes of hard driving on a road course at an ambient temperature of 100 degrees Fahrenheit." Sounds track-worthy to us.
The Hellcat Widebody starts at $88,890.00 Canadian.
Team Chrysler is already taking Factory orders for the Hellcat Widebody and it will arrive in 90 days after ordering. Please call Rich Fartolla at 905-819-0001 to order yours.